My Publications

Books
The People's Force: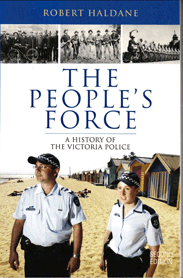 A history of the Victoria Police
Second edition reprint
A History of the Victoria Police
Robert Haldane
August 2012 - Second edition reprint
372 pp., 235 x 154 mm, 51 halftones, 2 maps
Subject: Law/Australian History
ISBN: 978-0-522-86230-0
RRP: $20.00 Available from: http://www.remembrance.org.au
Beginning in 1853, the Victoria Police Force's long history is interwoven with Victoria's social and political history. This revised edition brings the history up to date. A new chapter examines the administration of Kel Glare and ends with the appointment of Neil Comrie. New material deals with the Russell Street bombing, the Hoddle Street shooting, the abduction and murder of Karmein Chan, Coroner Hal Hallenstein's inquiry into police shootings and the introduction of a more equal ratio of women to men in the Force.
This book was written as a 'warts and all' history of the Victoria Police Force with the support and encouragement of the then Chief Commissioner, S. I. ('Mick') Miller, who wanted a proper objective history of the force, not a public relations exercise.
---
Days Of Violence:
The 1923 Police strike in Melbourne
Co-authors Gavin Brown and Robert Haldane.
Published October 1998.
ISBN 1 876462 01 9
RRP $19.95 236 pages (+ photo section) p/back.
Available from selected bookshops or,
by mail order from the publishers - Hybrid Publishers,
PO Box 52, Ormond, 3204, Victoria, Australia.
Also available from Robert Haldane - see Contact page.
Days of Violence is the first detailed account of the Victoria Police Strike which occurred in Melbourne, Australia during October-November 1923 and which to this day remains the only police strike ever to occur in Australia. The strike occurred during an era when police strikes also occurred in England and North America and in this book you will read how a combination of avoidable factors led to the worst breakdown of law and order in Melbourne's history - a unique occasion when the very guardians were provoked into striking by an inept and blundering administration. Led by one Constable - William Thomas Brooks - 636 policeman, more than one-third of the force, went on strike and were sacked, never to be re-employed by the Victoria Police.
During the strike wild mobs took over the streets of Melbourne, three people were killed, trams were overturned, most shops were looted and brawls erupted across the City.
A Herald Sun Weekend review described Days of Violence as 'the most authoritative record of that fateful weekend ... a gripping story filled with drama and emotion'.
---
Bairnsdale Bowls Club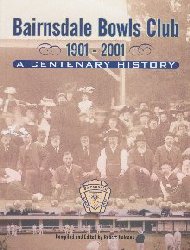 1901 - 2001: A Centenary History

Robert Haldane
2001, PB
78 pp. plus viii, 248 x 186 mm, illus, notes, bibliog, index,
ISBN: 0-646-41769-X
Available from selected East Gippsland retailers or The Bairnsdale Bowls Club Inc. Cnr. Pearson and Grant Streets, (P.O. Box 1135), Bairnsdale, 3875. Telephone 61-3-5152 3796. Facsimile 61-3-5153 1681. RRP $20.00.
The Bairnsdale Bowls Club was founded in 1901 with an inaugural membership that included the local architect, doctor, solicitor, magistrate, postmaster, minister, storekeepers and sundry other luminaries, like Percy 'P.B' Dahlsen the noted doyen of Bairnsdale's business world. They were all men and all influential in local life and politics.
For this reason Bairnsdale Bowls Club 1901-2001 is almost as much about Bairnsdale as it is about bowls. Along with details about the development of the game, greens, facilities and club champions, this book gives a 'different' insight into Bairnsdale the town and its people. Like how the Bowls Club came to squat in land set aside for a Botanical Gardens, thereby setting in train a process that saw the ruination of the gardens and its burgeoning emergence as a conglomeration of sporting and community facilities.
The book also includes information about the formation of other bowls clubs in Gippsland and provides details about such organizations as the East Gippsland Bowls Association.
A good index, bibliography and set of endnotes make this work a useful reference for anyone interested in particular personalities or events during the life of the Club.
---
Kristoferson's Light
Author: Robert Haldane.
Illustrator: Elisabeth Williams.
Published 2003.
ISBN 0 9751346 0 4 (2003 - First edition)
ISBN 978-0-9751346-1-0 (2011 - Reprinted)
RRP $9.90 (plus GST), 75 pages, soft cover, illustrated.
Available from selected Gippsland booksellers, or
from Robert Haldane - see Contact page.
Kristoferson's Light is an adventure story for young readers set at the Point Hicks Lighthouse on the Far East Gippsland coast. Inspired by the author's research into the history of the lighthouse for the Gippsland Heritage Journal, this novel is an historically accurate introduction for young readers into the events of James Cook's Australian landfall and the history of Point Hicks. Abalone poachers and the resident lighthouse ghost feature in this tale that wends its way through the unique Australian wildlife, Aboriginal middens, shipwrecks and sea creatures that are the magic of East Gippsland's historic Wilderness Coast.
---
A Caving Pioneer

Author: Robert Haldane
28 pp. soft cover, illustrated.
ISBN: 9780731183661
Published 2007 by Robert Haldane in association with Parks Victoria.
Available from Robert Haldane or Parks Victoria (Buchan Caves Reserve, Buchan 3885). RRP $10.
---
A Century of Service: The Story of the Buchan Bush Nursing Association.
Author: Robert Haldane.
Published 2011.
ISBN 978-0-646-55594-2
70 pages, soft cover, illustrated, notes, bibliography and index.
Available from selected Gippsland booksellers, or
from Robert Haldane - see Contact page.
---

Full Bibliography

Books

1980, Police in Victoria 1836-1980, (Ed.), Melbourne, Victoria Police, 1980.
ISBN 0 7241 2015 7

1982, Police Labour Relations, Melbourne, Australasian Police Special Study Grants Scheme, Melbourne, 1982.
ISBN 0 7241 4711

1986, The People's Force: A history of the Victoria Police, Melbourne, Melbourne University Press, 1986.
ISBN 0 522 84306 9 (1986 - First edition)
ISBN 0 522 84306 9 (1991 - Paperback reprint)
ISBN 0 522 84674 2 (1995 - Second edition)
ISBN 978-0-522-86230-0 (2012 – Second edition reprint)

1998, Days of Violence: The 1923 Police strike in Melbourne, Co-authored with Gavin Brown, Melbourne, Hybrid Publishers, 1998.ISBN 1 876462 01 9

2001, Bairnsdale Bowls Club 1901-2001: A Centenary History, Bairnsdale, Bairnsdale Bowls Club, 2001.
ISBN 0-646-41769-X

2003, Kristoferson's Light, Buchan, Robert Haldane, 2003.
ISBN 0 9751346 0 4 (2003 – First edition)
ISBN 978-0-9751346-1-0 (2011 – Reprinted)

2007, A Caving Pioneer: Frank Moon and the caves of Buchan, Buchan, Robert Haldane in association with Parks Victoria, 2007.
ISBN 9780731183661

2011, A Century of Service: The Story of the Buchan Bush Nursing Association, Buchan, Buchan Bush Nursing Association, 2011.
ISBN 978-0-646-55594-2

Contributing Reviewer – The Age Good Food Guide

2000, Stephanie Wood & Claude Forell, (Eds.), The Age Good Food Guide 2001, Melbourne, The Age Company Limited, 2000.
ISBN 1 876132 08 6

2001, Stephanie Wood, (Ed.), The Age Good Food Guide 2002, Melbourne, The Age Company Limited, 2001.
ISBN 1 876132 10 8

2002, Sally Lewis, (Ed.), The Age Good Food Guide 2003, Melbourne, The Age Company Limited, 2002.
ISBN 1 876132 12 4

2003, Sally Lewis, (Ed.), The Age Good Food Guide 2004, Melbourne, The Age Company Limited, 2003.
ISBN 1 876132 14 0

2004, Sally Lewis, (Ed.), The Age Good Food Guide 2005, Melbourne, The Age Company Limited, 2004.
ISBN 1-876132-17-5

2005, Roslyn Grundy, (Ed.), The Age Good Food Guide 2006, Melbourne, The Age Company Limited, 2005.
ISBN 1-876132-19-1

2006, John Lethlean and Necia Wilden, (Eds.), The Age Good Food Guide 2007, Penguin Books (Australia), Camberwell, 2006.
ISBN – 0-14-300496-4

2007, John Lethlean and Necia Wilden, (Eds.), The Age Good Food Guide 2008, Penguin Group (Australia), Camberwell, 2007.
ISBN 978-0-14-300589-6

2008, John Lethlean and Necia Wilden, (Eds.), The Age Good Food Guide 2009, Penguin Books (Australia), Camberwell, 2008.
ISBN 978-0-14-300590-2

2009, Janne Apelgren, (Ed.), The Age Good Food Guide 2010, Penguin Group (Australia), Camberwell, 2009.
ISBN 9780143011545

2010, Janne Apelgren, (Ed.), The Age Good Food Guide 2011, Penguin Group (Australia), Camberwell, 2010.
ISBN 9780143011750

2011, Janne Apelgren, (Ed.), The Age Good Food Guide 2012, Penguin Group (Australia), Camberwell, 2011.
ISBN 978-0-14-301176-7

2012, Janne Apelgren, (Ed.), The Age Good Food Guide 2013, Fairfax Media, Pyrmont NSW, 2012.
ISBN 978-1-921486-44-9

2013, Janne Apelgren & Roslyn Grundy, The Age Good Food Guide 2014, Fairfax Media, Pyrmont, NSW, 2013. ISBN 978-1-921486-64-7

2014, Janne Apelgren & Roslyn Grundy, The Age Good Food Guide 2015,Fairfax Media, Pyrmont, NSW. 2014. ISBN 978-1-921486-80-7

2015, Roslyn Grundy, The Age Good Food Guide 2016, Fairfax Media, Pyrmont, NSW, 2015.
ISBN 978-1921486-86-9

The Age Epicure Articles

2006, 'Postcodes 3875 Bairnsdale', Age Epicure, 28 February 2006, p. 2.

2006, 'Postcodes 3909 Lakes Entrance', Age Epicure, 21 March 2006, p. 2.

2006, 'Postcodes 3850 Sale', Age Epicure, 23 May 2006, p. 2.

2006, 'Postcodes 3904 Metung', Age Epicure, 4 July 2006, p. 2.

2006, 'Postcodes 3885 Bruthen/Buchan', Age Epicure, 18 July 2006, p. 2.

2006, 'Postcodes 3880 Paynesville/Raymond Island', Age Epicure, 12 September 2006, p. 2.

2006, 'Postcodes 3862 Stratford/Dargo', Age Epicure, 10 October 2006, p.2.

2006, 'Epicure Bites: Oldies but goodies', Age Epicure, 10 October 2006, p. 6.

2006, 'Postcodes 3844 Traralgon', Age Epicure, 7 November 2006, p. 2.

2007, 'Postcodes 3860 Maffra/Briagolong', Age Epicure, 16 January 2007, p. 2.

2007, Epicure Bites, 'Milky Ways', Age Epicure, 11 September 2007, p. 3.

2007, Epicure Bites, 'Olive out of her book', Age Epicure, 9 October 2007, p. 2.

2007, Epicure Bites, 'Plenty in Store', Age Epicure, 4 December 2007, p. 2.

2007, Epicure Countdown to Christmas, 'Gobble, gobble, gobble', Age Epicure, 4 December 2007, p. 11.

2007, Epicure Bites, 'Show us your abs', Age Epicure, 11 December 2007, p. 14.

2007, Epicure Wish List, 'Buy the book', Age Epicure, 18 December 2007, p. 8.

2008, 'Postcodes 3874 Rosedale', Age Epicure, 15 January 2008, p. 2.

2008, 'Postcodes 3954 Koonwarra', Age Epicure, 22 January 2008, p. 2.

2008, 'Postcodes 3892 Mallacoota', Age Epicure, 29 January 2008, p. 2.

2008, Epicure Bites, 'Chocolate retreat', Age Epicure, 29 July 2008, p. 4.

2008, Epicure Bites, 'Cooking by the books', Age Epicure, September 2008, p. 2.

2009, Epicure Bites, 'Thin crusts come to Bairnsdale', Age Epicure, 09 June 2009. p. 2.

2009, Epicure Bites, 'Caffeine hit on the run', Age Epicure, 25 August 2009, p. 2.

Gippsland Country Life

2009, 'Artisan Cheesemaker: Ferial Zekiman', Gippsland Country Life, Issue 6, Autumn 2009, pp. 25-27.

2009, 'Fine Fare from the Sea', Gippsland Country Life, Issue 6, Autumn 2009, pp. 62-65.

2009, 'My Country Town: Stratford', Gippsland Country Life, Issue 7, Winter 2009, pp.21-22.

2009, 'Gluten Free in East Gippsland', Gippsland Country Life, Issue 7, Winter 2009, p. 56.

2009, 'Artisan Butchers', Gippsland Country Life, Issue 7, Winter 2009, pp. 57-59.

2009, 'Lakes Entrance scallops back on the menu', Gippsland Country Life, Issue 8, Spring 2009, pp. 64-66.

2009, 'Beans on the move', Gippsland Country Life, Issue 8, Spring 2009, p. 74.

2009, 'Tinamba's Touch of Class'. Gippsland Country Life, Issue 9, Summer 2009, pp. 20-23.

2009, 'Artist Profile: Elisabeth 'Lis' Williams', Gippsland Country Life, Issue 9, Summer 2009, pp. 54-56.

2009, 'Biscotti anyone …', Gippsland Country Life, Issue 9, Summer 2009, p. 79.

2010, 'A Gentle Craft: Gippsland bee-keeping', Gippsland Country Life, Issue 10, Autumn 2010, pp. 24-28.

2010, 'A Tale of Gippsland Contentment', Gippsland Country Life, Issue 10, Autumn 2010, pp. 51-52.

2010, Gippsland Country Life, Issue 11, Winter 2010: The East's Hidden Treasure', p. 49; 'Piscatorial Delight', p. 50; 'The River Grill', p. 52; 'Quintessential Lakeside Café', p. 56; 'Olive Grove Café', p. 68; 'Iconic Bairnsdale Landmark', pp. 71-2; 'The Metung Hotel', p. 72; 'The Blue Duck Inn Hotel', p. 73.

2010, 'A Garden of Eden', Gippsland Country Life, Issue 12, Spring 2010, pp. 88-90.

2010, 'Beer with Bite', Gippsland Country Life, Issue 13, Summer 2010. P. 72.

2010, 'A touch of Greece in Lakes Entrance', Gippsland Country Life, Issue 13, Summer 2010, pp. 74-76.

2010, 'Paint, pictures & Guitars ….' Gippsland Country Life, Issue 13, Summer 2010, pp. 80-85.

2010, 'Culturally Significant', Gippsland Country Life, Issue 13, Summer 2010, pp. 90-91.

2011, 'Organically Speaking', Gippsland Country Life, Issue 14, Autumn 2011, pp. 72-74.

2011, 'For the love of Olive Oil', Gippsland Country Life,' Issue 15, Winter 2011, pp. 60-65.

2011, 'Winter Wanderings Dinner Plain', Gippsland Country Life, Issue 15, Winter 2011, pp. 92-96.

2011, 'A Rainforest Rainbow', Gippsland Country Life, Issue 16, Spring 2011, pp. 42-45.

2011, 'Light Fantastic', Gippsland Country Life, Issue 17, Summer 2011, pp. 38-40.

2011, 'First Catch Your Rabbit', Gippsland Country Life, Issue 17, Summer 2011, pp. 56-58.

2011, 'Bruthen's Best Brew', Gippsland Country Life, Issue 17, Summer 2011, pp. 62-65.

2012, 'Fruit of the sea', Gippsland Country Life, Issue 18, Autumn 2012, pp.42-47.

2012, 'Best of the Best', Gippsland Country Life, Issue 19, Winter 2012, pp. 68-71.

2012, 'At the Top', Gippsland Country Life, Issue 20, Spring 2012, pp. 50-53.

2012, 'Gobblers Galore', Gippsland Country Life, Issue 20, Spring 2012, pp. 89-94.

2012, 'The Designer & Maker', Gippsland Country Life', Issue 20, Spring 2012, pp. 104-108.

2012, 'Our Country Christmas', Gippsland Country Life, Issue 21, Summer 2012, p. 46.

2012, 'Sentinels of the Forest', Gippsland Country Life, Issue 21, Summer 2012, pp. 66-70.

2012, 'Art & Love', Gippsland Country Life, Issue 21, Summer 2012, pp. 92-97.

2012, 'Willing to Work', Gippsland Country Life, Issue 21, Summer 2012, pp. 108-109.

2013, 'The Midas Touch', Gippsland Country Life, Issue 23, Winter 2013, pp. 85-89.

2013, 'Food with a View', Gippsland Country Life, Issue 24, Spring 2013, pp. 104-107.

2013, 'New Nu Nu Restaurant', Gippsland Country Life, Issue 25, Summer 2013, pp. 82-85.

2014, 'Winemakers With Winning Ways', Gippsland Country Life, Issue 26, Autumn 2014, pp. 92-95.

2014, 'Diminutive Dynamo [Ferial Zekiman]', Gippsland Country Life, Issue 26, Autumn 2014, Good Living Supplement, p. 5.

2014, 'Right Grape, Right Place', Gippsland Country Life, Issue 27, Winter 2014, pp.84-88.

2014, 'Rainforest Roaster', Gippsland Country Life, Issue 27, Winter 2014, pp. 102-105.

2014, 'Bairnsdale's Wonderland', Gippsland Country Life, Issue 28, Spring 2014, pp.70-71.

2014, 'A new life for Buchan's grandest dame', Gippsland Country Life, Spring 2014, pp. 113-115.

2014, 'Reserved for the Revered', Gippsland Country Life, Issue 29, Summer 2014, pp. 45-48.

2014, 'In the shadow of a hero', Gippsland Country Life, Issue 29, Summer 2014, pp. 68-69.

2014, 'From Florence with Passion', Gippsland Country Life, Issue 29, Summer 2014, p. 98.

2014, 'Berries for Champions', Gippsland Country Life, Issue 29, Summer 2014, pp. 119-121.

2015, 'Buchan Bounces Back', Gippsland Country Life, Issue 33, Summer 2015, pp. 76-78.

2016, 'The Wild, Wild Life', Gippsland Country Life, Issue 34, Autumn 2016, pp. 24-29.

Gippsland Heritage Journal Articles

2000, 'Photo Folio: Thomas Undecimus Prankerd', Gippsland Heritage Journal, No. 24, 2000, pp. 25-32.

2001, 'A Beacon on the Wilderness Coast: The Story of Points Hicks (Cape Everard)', Gippsland Heritage Journal, No. 25, 2001, pp. 4-15.

2002, 'Photo Folio: John Flynn at Buchan', Gippsland Heritage Journal, No. 26, 2002, pp. 19-27.

2003, 'War in Bass Strait: the Story of the S.S. Iron Crown', Gippsland Heritage Journal, No. 27, 2003, pp. 16-20.

2004, 'The Snowy River Bandit', Gippsland Heritage Journal, No. 28, 2004, pp. 34-38.

2005, 'The Snowy River Bandit: A Postscript', Gippsland Heritage Journal, No. 29, pp. 62-63.

2005, 'The Story of the SS Saros: Wrecked at Cape Everard on Christmas Day 1937', Gippsland Heritage Journal, No. 29, pp. 34-38.

2006, 'A Gippsland Grevillea Grower: Leomin Hodge', Gippsland Heritage Journal, No. 30, 2006, pp. 36-40.

Victoria Police Association Journal

1984, 'The North American experience: some lessons for Australia', Victoria Police Association Journal, Vol. 49 No. 1, March 1984, pp. 49-55.

2000, 'Policeman to Poltergeist', The Police Association (Victoria) Journal, Vol. 66 Issue 12, December 2000, p. 23.

2003, 'The Police Association: The History 1904-1918', The Police Association (Victoria) Journal, Vol. 69, Issue 5, May 2003, pp. 12-15.

2003, 'The Police Association (Victoria): The History 1919-1923', The Police Association (Victoria) Journal, Vol. 69, Issue 6, June 2003, pp. 13-15.

2003, 'The Police Association (Victoria): The History 1923-1931', The Police Association (Victoria) Journal, Vol. 69, Issue 7, July 2003, pp. 24-25.

2005, 'The Snowy River Bandit', The Police Association (Victoria) Journal, Vol. 71, Issue 7, July 2005, July 2005, pp. 12 – 13.

2005, 'The Snowy River Bandit Unmasked', The Police Association (Victoria) Journal, Vol. 71, Issue 10, October 2005, p. 25.

2009, 'Wildcat Strike: the story of William Thomas Brooks', The Police Association (Victoria) Journal, Vol. 75 Issue 5, May 2009, pp. 20-21.

2009, 'The Beach Inquiry', The Police Association (Victoria) Journal, Vol. 75, Issue 6, June 2009, pp. 22-23.

2009, 'A paper they can call their own: The beginnings of The Police Journal', The Police Association (Victoria) Journal, Vol. 75, Issue 7, July 2009, pp. 22-23.

2009, 'The Police Journal: A chronicle of Association news & views over 90 years', The Police Association (Victoria) Journal, Vol. 75, Issue 8, August 2009, pp. 20-21.

2009, 'W. D. 'Bill' Crowley: A smart energetic type … very efficient and zealous', The Police Association (Victoria) Journal, Vol. 75, Issue 9, September 2009, pp. 25-26.

2009, 'Sinclair Imrie "Mick" Miller: The Early Years', The Police Association (Victoria) Journal, Vol. 75, Issue 10, October 2009, pp. 14-15.

2009, 'Mick Miller: The Incorruptible', The Police Association (Victoria) Journal, Vol. 75, Issue 11, November 2009, pp. 12-13.

2009, 'May the Force be with you: Mick Miller', The Police Association (Victoria) Journal, Vol. 75, Issue 12, December 2009, pp. 13-15.

2010, 'Hugh Patrick McConville: Our longest serving Secretary', The Police Association (Victoria) Journal, Vol. 76, Issue 3, March 210, pp. 24-25.

2010, 'Memory tricks of Mick Miller', The Police Association (Victoria) Journal, Vol. 76, Issue 4, April 2010, p. 18.

2010, 'The policeman's lot …' The Police Association (Victoria) Journal, Vol. 76, Issue 6, June 2010, pp. 24-25.

2010, 'Our first industrial action', The Police Association (Victoria) Journal, Vol. 76, Issue 8, August 2010, pp. 22-23.

2010, 'Remembering the Kelly Hunters', The Police Association (Victoria) Journal, Vol. 76, Issue 10, October 2010, pp. 24-25.

2010, 'Life without a Rest Day', The Police Association (Victoria) Journal, Vol. 76, Issue 12, December 2010, pp. 22-23.

Other Journal and Periodical Articles

1969, 'Cadets at The Royal Show', Cadet Action, Vol. 10, 1969, p. 15.

1969, 'Home Away From Home: Her Majesty's Gaol – Pentridge', Cadet Action, Vol. 10, 1969, p. 21.

1979, 'Improving The Police Image', The Australian Police Journal, Vol. 33 No. 2, April 1979, pp. 102-109.

1979, 'Improving The Police Image', Police Life, May 1979, pp. 17-18.

1980, 'Improving The Police Image', The Indian Police Journal, Vol. 24 No. 3, January/March 1980, pp. 17-24.

1980, The History of Our Chiefs', Police Life, November 1980, pp. 11-12; December 1980, pp. 16-17.

1981, 'The History of Our Chiefs', Police Life, January/February 1981, pp. 14-15; March 1981, pp. 14-15; April 1981, pp. 14-15.

1981, 'Improving The Police Image', Australian Crime Prevention Council Quarterly Journal, Vol. 4 No. 3, 1981, pp. 39-41.

1981, 'Improving The Police Image', Royal Canadian Mounted Police Gazette, Vol. 43 No. 4, 1981, pp. 5-8.

1982, 'The Victoria Police Strike – 1923', The Australian Police Journal, Vol. 36 No. 2, April 1982, pp. 102-115.

1982, 'And you think we've got it bad!' Police Life, March 1982, pp. 14-15.

1982, 'And you think we've got it bad!' The Legal Scribe, Vol. 1 No. 2, May/June 1982, pp. 25-26.

1982, 'Victoria Police Reading and Study Guide', Police Life, November/December, 1982, pp. 34-37.

1983, 'Police Honour Roll', Police Life, May 1983, p. 20.

1985, 'When Police on Bicycles Chased Motorists', Royal Historical Society of Victoria Journal, Vol. 56 No. 3, 220th Issue, September 1985, pp. 25-34.

1986, 'Tackling an age-old problem of attitudes', Equal Opportunity Forum, Issue No. 21 June 1986, p. 7.

1995, 'The Victoria Police Force boasts colorful history', The Ohio Police Chief Magazine, Vol. 42 No. 1, Winter 1995, pp. 51-55.

1996, 'In the Shadow of Ned Kelly: The Study of Police History', Journal of Police History, Vol. 3 No. 3, March 1996, pp. 17-20.

1999, 'Two Centurions', Police Life, December 1999, pp. 36-37.

2000, 'Chickens That Quack', Australasian Poultry, Vol. 11 No. 1, April/May 2000, p.29.

2000, 'Christmas Turkey Magic', Australasian Poultry, Vol. 11 No. 5, December/January 2000, p. 7.

2000, 'In The Shadow of Ned Kelly: The Study of Australian Police History', The Australian Police Journal, Vol. 54 No. 4, December 2000, pp. 241-247.

2003, 'Power without glory', Police Life, April 2003, pp. 20-22.

2003, 'A Sleuth's Sabbatical: The Writing of The People's Force', Victorian Historical Journal, Volume 74 No. 2, October 2003, pp. 141-153.

2004, 'A day in the life of …' Education Times, Vol. 12, No.10, 17 June 2004, pp. 10.

2006, 'The Ghost of Point Hicks', PRISM, No. 6, 2006, p. 8.

2007, 'A Caving Pioneer: Frank Moon and the caves of Buchan', Australasian Cave & Karst Management Association Inc. Journal, No. 67, June 2007, pp. 16 – 24.

2007, 'The Snowy River Bandit', Journal of Police History, Vol. 9, No. 2, pp. 8-11.

2008, 'Catch as catch can: Gippsland Seafood Trail', Qantas The Australian Way, September 2008, pp. 100 – 108.

2008, 'Policeman to Poltergeist: The story of ex-constable Robert Grace Christofferson Registered No. 7336', Journal of Police History, Vol. 11, No. 2, pp. 11 & 14.

2009, 'Gippsland Police Pioneer & Vigneron', Journal of Police History, No. 1, 2009, pp. 7-8

2009, 'The Story of Anthony 'Tony' Howard', Journal of Police History, No. 2, 2009, pp. 9-10.

2010, 'The Moorings at Metung', The Gippsland Farmer, January 2010, p. 2.

2010, 'The Kelly Hunters: A Police Perspective', Australian Police Journal, Vol. 64, No. 2, June 2010, pp. 80-90.

2014, 'Creating History without knowing it', The Black Sheep, Issue 85, East Gippsland Family History Group Inc. & East Gippsland Historical Society Inc. pp. 11-12.

Newsletter/Report Items

2002, 'Local Learning and Employment Networks in Gippsland', GCLP Alumni News, August 2002, p. 3.

2002, 'A Word From The Chair', The Llens, Spring 2002, p. 10.

2002, 'The Chair's Report', Gippsland East LLEN Annual Report 2001/02, p. 3.

2007, 'Editorial', The Buchan Bulletin, No. 1, July 2007, p. 2.

2007, 'Editorial', The Buchan Bulletin, No. 2, August 2007, p. 2.

2007, 'Editorial', The Buchan Bulletin, No. 3, September 2007, p. 2.

2007, 'Editorial', The Buchan Bulletin, No. 4, October 2007, p. 2.

2007, 'Editorial', The Buchan Bulletin, No. 5, November 2007, p. 2.

2007, 'Editorial', The Buchan Bulletin, No. 6, December 2007, p. 2.

2008, 'Editorial', The Buchan Bulletin, No. 7, February 2008, p. 2.

2008, 'The Gift of Life', The Buchan Bulletin, No. 8, March 2008, p. 3.

2008, 'The Snowy River Bandit', The Buchan Bulletin, No. 9, April 2008, pp. 4-5.

2008, 'Leo Hodge: East Gippsland Grevillea Grower', Part 1, The Buchan Bulletin, No.10, May 2008, pp. 6-7.

2008, 'Leo Hodge: East Gippsland Grevillea Grower', Part 2, The Buchan Bulletin, No.11, June 2008, pp. 6-7.

2008, 'Thomas Undecimus Prankerd', The Buchan Bulletin, No.12, July 2008, p. 5.

2008, 'Caves Main Street Café', The Buchan Bulletin, No. 13, August 2008, p. 6.

2008, 'Are You Ready?' The Buchan Bulletin, No. 15, October 2008, p. 2.

2008, 'Local Government and our place in it …' The Buchan Bulletin, No. 16, November 2008, p. 2.

2008, 'Editorial', The Buchan Bulletin, No. 17, December 2008, p. 2.

2008, 'Editorial', The Buchan Bulletin, No. 17, December 2008, p. 2.

2009, 'More than just a race meeting'. The Buchan Bulletin, No. 18, February 2009, p. 2.

2009, 'Responsible cat ownership: a duty & a privilege…' The Buchan Bulletin, No. 19, March 2009, p. 2.

2009, 'Lifelong Learning begins at Buchan', The Buchan Bulletin, No. 20, April 2009, p.2.

2009, 'More Than Just a Game …', The Buchan Bulletin, No. 21, May 2009, p. 2.

2009, 'Welcome to Winter', The Buchan Bulletin, No. 22, July 2009, p. 2.

Published Proceedings

1982, 'The North American Experience – Some Lessons For Australia', Police Industrial Relations Seminar, Airlie Police College, Melbourne, Australia, 6-10th December 1982, pp. 121-127.

1983, 'The Origins and Development of the Victoria Police Force', Australian Postgraduate Research Conference, Abstracts, University of New South Wales, 21 February 1983.

1983, 'The Origins and Development of the Victoria Police Force', Review of Australian Criminological Research, Australian Institute of Criminology, Canberra, 22-25 February 1983, pp. 60-61.

1985, 'Koories and Gubbas', A landmark seminar looking at relationships between Victoria's Aboriginals and non-Aboriginals, Ballarat College of Advanced Education, Sunday 7 July 1985, pp. 24-36.

1991, 'Code 9 – in The Library', Australian Emergency Service Librarians Workshop, Australian Counter Disaster College, Mt Macedon, September 8-13 1991, pp. 2-6.

Chapters in Books

1985, 'Victoria Police History', Bruce Swanton and Garry Hannigan, Police Source Book 2, ACT, Australian Institute of Criminology, 1985, pp. 395-409.

1985, 'Wildcat – The 1923 Victoria Police Strike', Bruce Swanton and Garry Hannigan, Police Source Book 2, ACT, Australian Institute of Criminology, 1985, pp. 581-599.

2016, 'Broadmeadows to the Bush: A Policing Perspective' in Locating Crime in Context and Place: Perspectives on Regional, Rural and Remote Australia. Alistair Harkness, et al, Sydney, The Federation Press, 2016.

Australian Dictionary of Biography


(The

following

ADB

articles

can be read on-line.

Click the l

inks

on

the Links page.

)

1988, 'O'Callaghan, Thomas (1845-1931)', Geoffrey Serle (Ed.), Australian Dictionary of Biography, Vol. 11, Melbourne, Melbourne University Press, 1988, p. 49.

1988, 'O'Donnell, David George (1860-1946)', Geoffrey Serle (Ed.), Australian Dictionary of Biography, Vol. 11, Melbourne University Press, 1988, p. 60.

1996, 'Duncan, Alexander Mitchell (1888-1965)', John Ritchie (Ed.), Australian Dictionary of Biography, Vol. 14, Melbourne University Press, 1996, pp.49-50.

2002, 'Salisbury, John Ronald George (1921-1980)', John Ritchie & Diane Langmore (Eds.), Australian Dictionary of Biography, Vol. 16, Melbourne University Press, 2002, p. 168.

2005, 'Brooks, William Thomas (1889-1943)', Christopher Cunneen, et al, (Eds.), Australian Dictionary of Biography, Supplement 1580-1980, Carlton, Melbourne University Press, 2005, pp. 47-48.

Oxford Dictionary of National Biography

'Kelly, Edward [Ned] (c.1854-1880)', Oxford Dictionary of National Biography, Oxford University Press, 2004, article 15294.

'Morgan, Daniel (c.1830-1865)', Oxford Dictionary of National Biography, Oxford University Press, 2004, article 19219.

Newspaper Articles

1987, 'Do Country People Care?', Warragul & District Press, 25 August 1987.

2001, 'Smashing the glass ceiling', The Sunday Age, 18 March 2001, p. 13.

2003, 'Charabancs to Chardonnay: reflections on East Gippsland's gastronomic history', Bairnsdale Advertiser, 24 October 2003, p. 15.

2006, 'The Boys in Blue', Herald Sun (Lift-out), 14 November 2006, p. 20.

2007, 'Celebrity Chef', The Bairnsdale Advertiser, 17 September 2007, p. 8.

2007, 'Something's fishy in the force, and the rot must stop now', The Sunday Age, 11 November 2007, p. 19.

2008, 'Warm policing yet violence chilling', Herald Sun, 6 November 2008, p. 26.

2009, 'Arrest the trend for outsiders', Herald Sun, 10 March 2009, p. 25.

Newspaper Letters

1997, 'Wrong impression was created', Herald Sun, 9 January 1997, p. 20.

1997, Untitled, The Age (Metropolitan), 23 December 1997, p. C8.

1999, 'Talk Back', Age Epicure, 8 June 1999, p. 2.

1999, 'A wonderful spirit of giving', The Age (Opinion), 30 July 1999, p. 14.

1999, 'The flashers', The Bairnsdale Advertiser, 31 December 1999, p. 21.

2001, 'Bush is alive and kicking', The Bairnsdale Advertiser, 24 August 2001, p. 8.

2004, 'Letters', The Weekend Australian Magazine, 29-30 May 2004, p. 6.

2005, 'Whence the vampire?' The Bairnsdale Advertiser, 08 April 2005, p. 6.

2008, 'So, you want to be a councillor' Bairnsdale Advertiser, 31 October 2008, p. 10.

2009, 'Heed the Call', The Sunday Age, 26 July 2009, p. 14.

2015, 'Pathetic Process', Bairnsdale Advertiser, Friday November 2015, p. 9.

Poem

1999, 'Vigil for an earthly giant', The Bairnsdale Advertiser, 31 December 1999, p. 2.

Book Reviews

1982, 'Captain Dana and the Native Police', Police Life, August 1982, p. 17.

1982, 'The Criminal Injustice System', Police Life, October 1982, p. 17.

1983, 'Protecting the Protectors', Police Life, April 1983, p. 10.

1988, 'The Trial of Ned Kelly by John H Phillips', Australian & New Zealand Journal of Criminology, Volume 21, 1988, pp. 270-271.

2001, 'On Patrol in Gippsland', Police Association Journal, May 2001, p. 37.

2001, 'Death at Bondi', Police Association Journal, December 2001, pp. 38-39.

2002, 'Underbelly 5', Police Association Journal, February 2002, p. 25.

2002, 'On Murder 2: True Crime Writing in Australia', Police Association Journal, April 2002, p.29.

2004, 'Shipwrecks on the East Gippsland Coast', Gippsland Heritage Journal, No. 28, 2004, p.56.

2007, 'Is emu off the menu?', Bairnsdale Advertiser, Friday, 18 May 2007, p.16.

2016, 'NED KELLY: A Lawless Life', Police Association Journal, February 2016, Volume 83, Issue 1, p. 46.

Miscellany

1996, Melbourne University Press, Australian Moments: A unique celebration of Australia's past (1997 Diary), *Excerpt at diary section 7-13 July 1997.

1997, Colleen Woolley, Arresting Women; A history of women in the Victoria Police, Melbourne, Victoria Press, 1997, back cover.

2000, Barry Dickins, Heart and Soul, South Yarra, Hardie Grant Books, 2000, pp. vii-xi.

2001, David Carey, On Patrol in Gippsland, Bairnsdale, the Author, p. v.

2001, John Silvester and Andrew Rule, Underbelly 5, Melbourne, Floradale Productions Pty Ltd & Sly Ink Pty Ltd, 2001, p. v.

2003, Marilyn Miller (Ed.), 1853-2003 Celebrating 150 years in the community, Melbourne, Victoria Police, title page acknowledgement.

2005, 'Modest ambition surpassed', Police Life, June 2005, p. 2.

2006, Rhonda Coates, John Flynn Postcards From Buchan, Buchan, The Author, 2006. Foreword, p. iii & Rear cover note.

Unpublished Thesis

1981, The Victoria Police Strike – 1923, submitted for the degree Bachelor of Arts (Honours), Department of Legal Studies, La Trobe University, 1981.

1985, The Force of The People: A History of The Victoria Police, submitted for the Degree Doctor of Philosophy, Department of History, La Trobe University, 1985.

Audiovisual Documentary Interviews

1993, Koories and Cops, Film Art Doco, Victoria Police, February 2003.

2003, Landline (screened on ABC television 11 May 2003): re John Flynn in Buchan.

2003, Outlawed: The Real Ned Kelly, Windfall Films Ltd, ABC Video, 2003. (Screened on ABC television 06 August 2003).

2009, Beechworth Kelly Weekend (screened ABC Stateline – Victoria, 7 August 2009): re 'The Kelly Hunters: A police perspective'

Other pages on this website


Biography


John Flynn at Buchan (online article)


Point Hicks Lighthouse (online article)


Snowy River Bandit (online article)


Grape Growers and Wine Makers (online article)


John Henry Harvey (online article)


Remembrance Day Address (online copy)


Charabancs to Chardonnay Address (online copy)


The Victoria Police Strike - 1923 (online copy)


In the Shadow of Ned Kelly (online copy)


Daring to Delve (online article on the Buchan Caves)


Contact Me


Links to Related Websites


Return to Main Page

This page last updated on 14 March 2016