Photo Folio - John Flynn at Buchan:
by Robert Haldane

This article first appeared in Gippsland Heritage Journal #26 (2002).
This page is designed to be viewed with a screen resolution of 800x600.

Bullock team captured on photograph by Flynn when mired in real East Gippsland mud.
(National Library of Australia - John Flynn Collection - Buchan Caves Area P456/95)
Revered as the founder of The Royal Flying Doctor Service and heralded as the "Apostle to the Inland", it is for his work with the Inland Mission that John Flynn is best remembered. But his dream of a 'mantle of safety' for those living in the bush perhaps had its genesis during Flynn's work in Gippsland, where, in 1901, he taught at Hazelwood South and several years later worked as a home missionary at Buchan.
After his stint as a pupil-teacher in Gippsland, Flynn returned to Melbourne in 1902 where he taught at the West Hawthorn State School. It was during this time that Flynn developed his passion for photography: he purchased a camera, studied technical reports, practised assiduously, and mastered the processes of developing and enlarging. Thereafter he was inseparable from his photographic equipment.
In July the following year Flynn joined the Home Mission Department and spent the next eighteen months as a home missionary at Beech Forest. He took scores of photographs, many of which he mounted as slides and using his newly purchased magic lantern, he presented his first lantern lecture entitled How the Land was Won.
Still working as a home missionary and completing his extra-mural course as a student lay preacher, in 1905 Flynn moved to Buchan, a far-flung pioneering parish that embraced the mountainous Snowy River country. For Flynn it was 'a photographic wonderland'. A competent horseman and keen fisherman, he ranged from Lakes Entrance to Black Mountain on photographic expeditions and took many pictures of his parishioners and their bush dwellings. In Buchan his hobby became a much-needed source of income when he sold photographs for publication in The Leader, The Australasian and The Weekly Times.
In 1906 his sister 'Zetta' (Rosetta) joined him and shared his small rented cottage. Under his instruction she made postcards of his photographs, which they sold for nine pence each, frequently sending them by train to their father in Melbourne for distribution. On one occasion his photographs were 'lost on the train' and another time he lamented: 'bad luck again. I packed the [photographic] plates in paper and the result is that three or four came up with advertisements for IXL stoves on them'.
Flynn took hundreds of photographs during his time in Buchan but it was his pictures of the Buchan caves that were his greatest legacy to East Gippsland. Introduced to the caves by pioneering speleologist Frank Moon, Flynn took photographs of the spectacular underground formations by flashlight and used them in magic lantern lectures to successfully promote the development and preservation of the caves. On 24 September 1906 a branch of the East Gippsland Railway League was formed in Buchan and the League sponsored Flynn's magic lantern lectures, including a presentation to the Premier of Victoria, Sir Thomas Bent.
Flynn passed his Home Mission examinations in 1906 and departed Buchan on 31 December for a Home Mission position at Montague and theological studies at Ormond College, Melbourne. His Gippsland sojourn was over.
Sources:
Graeme Bucknall, 'John Flynn (1880-1951)', Australian Dictionary of Biography, vol. 8, Melbourne University Press, Melbourne, 1981, pp. 531-4.
W. Scott McPheat, John Flynn Apostle to the Inland, Hodder &Stoughton, London, 1963, pp. 30-38.
National Library of Australia, Manuscripts Collection, John Flynn Papers – Letters to his father from Buchan (1906): NLA MS 3288 Series 2 Folder 1.
Photograph acknowledgement:
The photographs reproduced in this photofolio form part of the John Flynn Collection held at the National Library of Australia (John Flynn Collection – Buchan Caves Area – Series PIC P456). They are reproduced here with the kind permission of the National Library of Australia and the National Director of Frontier Services and with the generous financial assistance of the Buchan Sesquicentenary Committee.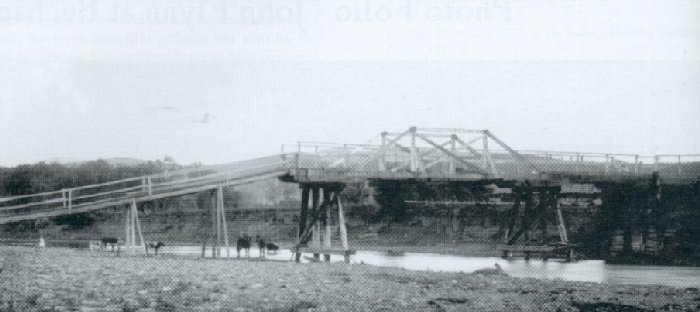 Original Buchan River Footbridge built in 1894. Originally intended as a vehicular bridge, the work was never finished due to lack of funding and the long steep plank on the low side was difficult to climb and usually washed-away when the river flooded.
(National Library of Australia - John Flynn Collection - Buchan Caves Area P456/30)
Believed to be a Davidson family portrait: the Davidsons who were parishioners of Flynn's lived on a selection named 'Echo Dell' at Jackson's Crossing on the Snowy River.
(National Library of Australia - John Flynn Collection - Buchan Caves Area P456/35)
Smoko time at a well-equipped bush hut, complete with bicycle and wheelbarrow.
(National Library of Australia - John Flynn Collection - Buchan Caves Area P456/64)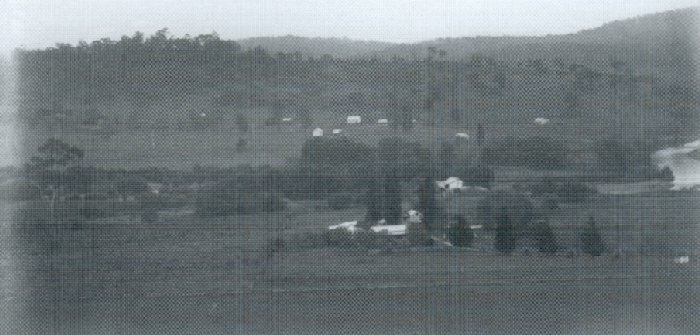 View over Buchan Valley facing west. The house in the foreground on Ridley's Flat was 'Rose Villa': no longer there. In the 1930s it was the base for Buchan's Lone Girl Guides.
(National Library of Australia - John Flynn Collection - Buchan Caves Area P456/42)
Photograph taken from above Buchan town area, looking north along the original East Buchan Road: the building nearest the camera is Buchan's first public hall, known as 'Gordon Hall' and the building behind it facing the road is the Cricket Club Hotel, which later became Homeleigh Guesthouse and today serves as a base for caving enthusiasts.
(National Library of Australia - John Flynn Collection - Buchan Caves Area P456/40)
A man and his many dogs with a 'Poison Cart' used to lay baits for poisoning rabbits.
(National Library of Australia - John Flynn Collection - Buchan Caves Area P456/99)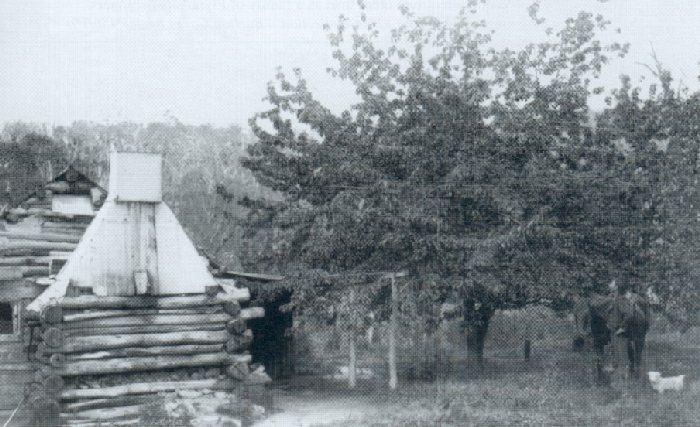 Unidentified photograph taken in 1906: the building and garden showing signs of permanent habitation.
(National Library of Australia - John Flynn Collection - Buchan Caves Area P456/41)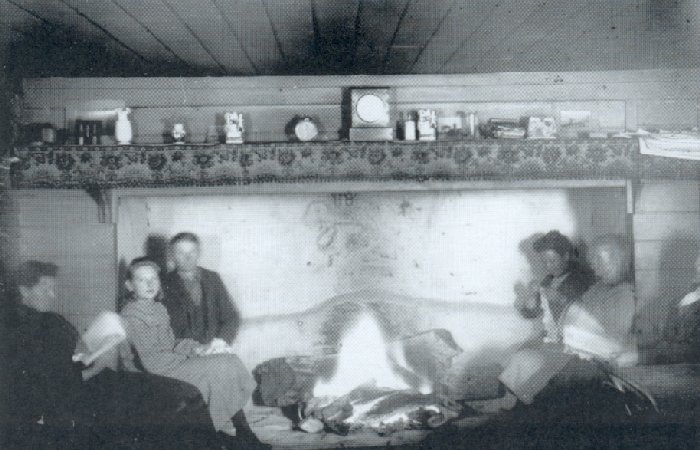 Family fires scene, unidentified other than as a family of Flynn's parishioners.
(National Library of Australia - John Flynn Collection - Buchan Caves Area P456/10)
'Murrendale Park' homestead on the Murrindal River at Murrindal: built in 1870 of local limestone for selector James Dickson it still stands, now the Price family home, in the early days it was a sly-grog shop for travelers on the Monaro-Gippsland route.
(National Library of Australia - John Flynn Collection - Buchan Caves Area P456/56)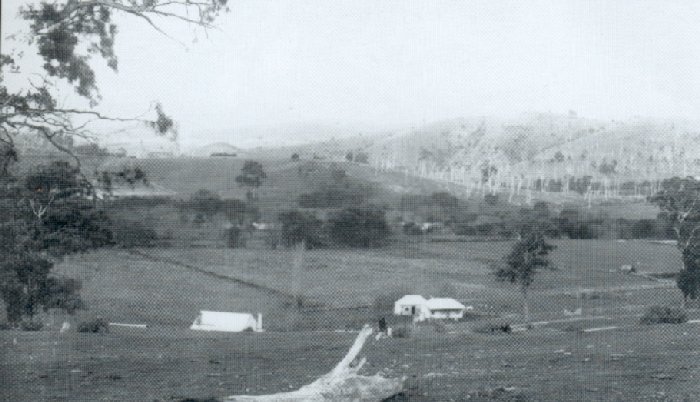 View over Buchan showing the Police Station in 1906.
(National Library of Australia - John Flynn Collection - Buchan Caves Area P456/89)
Unidentified bush family scene: possibly identical with a photograph referred to in Flynn's photograph notes as 'The Girl from Snowy River'.
(National Library of Australia - John Flynn Collection - Buchan Caves Area P456/71)
Facing downstream at the junction of the Snowy and Buchan Rivers: once Lucas Point.
(National Library of Australia - John Flynn Collection - Buchan Caves Area P456/61)
View of Buchan township on north side of the Buchan River: bridge and river crossing in foreground, St Dymphna's Catholic Church, erected 1896, at left in photograph, still stands.
(National Library of Australia - John Flynn Collection - Buchan Caves Area P456/73)
What can one say: a great Flynn photograph ravaged by time and temperature?
(National Library of Australia - John Flynn Collection - Buchan Caves Area P456/97)

Other pages on this website


Biography


Publications


Point Hicks Lighthouse (online article)


Snowy River Bandit (online article)


Grape Growers and Wine Makers (online article)


John Henry Harvey (online article)


Remembrance Day Address (online copy)


Charabancs to Chardonnay Address (online copy)


The Victoria Police Strike - 1923 (online copy)


In the Shadow of Ned Kelly (online copy)


Daring to Delve (online article on the Buchan Caves)


Contact Me


Links to Related Websites


Return to Main Page

This page last updated on 15 December 2014